Spiders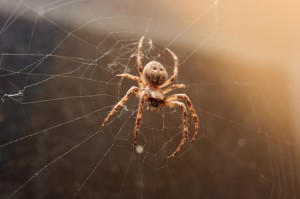 Inquire or Ask for a FREE Quote
Muncie Spider Control
Spiders are a common pest but do help in one particular way if discovered inside your home – they prey on other bugs and insects inside the home that you don't see and never will, thanks to these spiders. However, we realize this isn't likely going to make you want to keep them inside and just forget they are there.
Our Muncie spider control solutions are key to controlling the existing spiders but we can also help you keep a spider-free property all year long. Many times when spiders are discovered in residential properties it's in more humid locations like crawl spaces. Even though the majority of Muncie spiders are harmless, they are just like every other pest and could begin reproducing even more spiders into your once cozy and pest-free environment.
You can prevent this and while you can definitely kill a harmless spider on your own, killing it will not keep the other spiders out. We can help you determine the possible entry points of the spiders on your property, seal them up and apply treatments to eliminate the existing spiders while creating a barrier that keeps any future visiting spiders away.
Call (765) 215-2214 today and speak with one of our friendly representatives to learn more about how our Muncie spider control exterminators can help you with your spider issue!