Rodents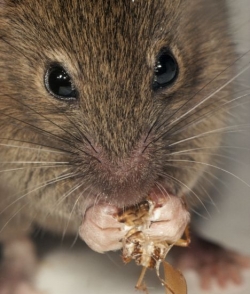 Inquire or Ask for a FREE Quote
Muncie Rodent Control Services
Most residents in the Muncie area experience a rodent problem at some point in time while residing in their home or at their work place. Once rats and mice invade your property they're going to look to expand their family and build a large nest. It's at this time that we highly advise seeking the help of a professional to completely eliminate them before they get a chance to multiply and become an 'infestation' rather than a minor, temporary nuisance.
Muncie Rodent Control Services
Most people are also aware that rats and mice can bring forth health hazards, regardless of a person's existing health. According to the CDC, Muncie rodents can carry the following diseases:
Hantavirus Pulmonary Syndrome
Lassa Fever
Leptospirosis
Plague
Salmonellosis
Rat-Bite Fever
Tularemia
This is not to say that all rodents are carrying a disease, but is that a risk you are willing to take? We didn't think so.
Rats and mice can quickly find your food and won't think twice about contaminating it and anything else they come across in the meantime. They can chew through just about anything if they believe (or know) food is just on the other side.
Inspect & Fix Entry Points
Rats and mice don't need a large space to quickly invade your property so it's imperative that you do a complete inspection of your property's exterior and interior to discover the small (or large) entry points and address them accordingly. This is the most common way for rodents to get inside a property but many property owners don't realize just how small a space a rat or mouse needs; mice can fit through a nickel-size hole and rats through a half-dollar size hole. Locating and fixing these points is a service that our Muncie rodent control specialists can perform for you.
We've included a list of the most common areas where our Muncie rodent control technicians find them inside a home when they go to inspect/treat:
Lower corners of your attic
Around doors
Around your water pipes
Around the fireplace
Inside the attic
Under kitchen cabinets
We have found that steal wool is one of the most effective materials for closing these gaps. If you have rather large holes that need to be sealed up, consider cement, hardware cloth, lath metal/screen or even metal sheeting. Flashing is another available alternative and is done to the property's base (or close to) and is effective at keeping rodents out.
Our Muncie rodent control experts can get rid of the rodents wreaking havoc on your property or we can provide preventative solutions to ensure you never have to deal with a rat or mouse issue. Just phone us at (765) 215-2214 today to learn more, get a price for services and to schedule your first treatment!